In this week's Week in Review: AppNexus files for IPO, BBC launches daily vertical video news, Publicis performs best of 'Big Six'. To receive a weekly summary of industry news and other VAN interviews and videos, sign up to the weekly Video Round-Up.
Top Stories
AppNexus Files for IPO
AppNexus has confidentially filed for an IPO, reports the Wall Street Journal. The company, which was valued at $1.8 billion in a 2015 funding round, could seek a valuation between $1.5 billion and $2 billion in the offering, though pricing talk is still fluid, according to the WSJ. AppNexus has reportedly tapped Goldman Sachs Group Inc. and J.P. Morgan Chase & Co. to serve as the lead underwriters on the offering.
Publicis Performs Best of 'Big Six'
Publicis Groupe's acquisition of Sapient in February 2015 helped it to deliver the strongest growth in operating profit of the big six holding companies, according to data collated by Kingston Smith. The group's operating profit rose 25.8 per cent to £1.1bn, with revenue up 32.3 per cent to £7bn. Kingston Smith said that only a small part of Publicis Groupe's revenue growth was organic and attributed most of it to the acquisition of Sapient. Havas had the second-strongest growth after embarking on an acquisition spree in 2015. WPP remains the largest holding company by profit and revenue.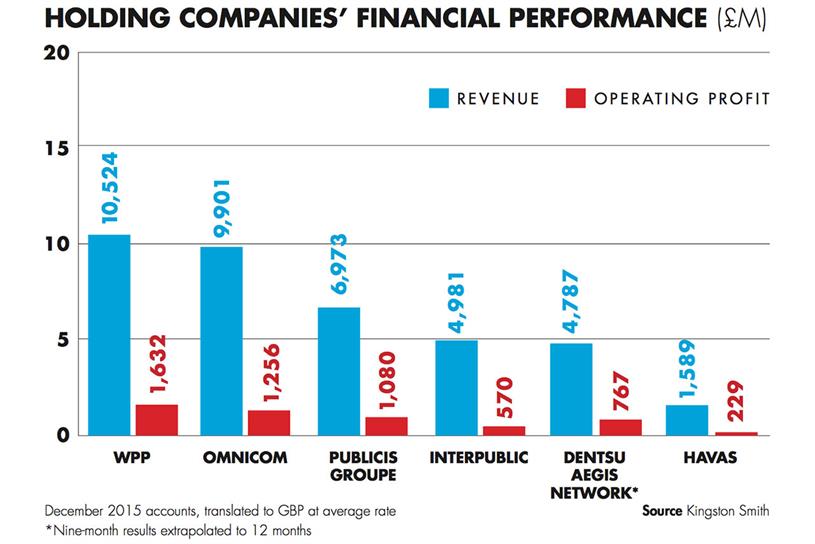 The Week in TV
AT&T to Launch Live Online Television Service
AT&T has unveiled a live online television service as the US telecoms group looks to compete with Netflix and get a foothold in the entertainment industry. The service, called DirecTV Now, will launch on Wednesday and offer more than 100 channels of live TV starting at $35 a month for a limited time, with the option to add HBO for an extra $5 a month.
Studio+ Launches in France
After launching in LatAm, and in advance of a scheduled global roll-out, Vivendi's premium short form mobile series service Studio + is launching November 25 in France. Targeting the Millennials and the 18-34 demographic, the contract-free app will be available for €4.99 via three distribution outlets: the Apple Store and Google play stores, from the on the go service MyCanal and from early 2017, via a partnership with telcos Orange and Bouygues Telecom.
ITN Eyes Productions Boost
Executives at UK news producer ITN say that the company's increased focus on third-party productions will drive higher revenue levels in the coming years, proving that ITN is not simply "the news department of ITV" according to ITN's 2020 Vision which has laid out the company's aim of achieving revenues of £180 million + by the end of 2020.
Netgem Adds Watch on Twitter
Netgem has launched Watch on Twitter. The new functionality has been incorporated into the #TelcoTV cloud platform and launches on EE TV in the UK. The functionality enables viewers to see which shows are trending on Twitter and watch the shows in real time. Taking data from the social media platform, Watch on Twitter highlights the five highest trending live shows, alongside those starting within the next hour with assocuated #s.
Content Mountain is Sinking Production Skills
Television and video professionals don't have time to learn how to use advanced technology, according to Forbidden Technologies. While over 90 per cent of surveyed professionals agreed that it's essential to keep up with, and use, new technology to be successful, 70 per cent of respondents reported spending less than 20 hours per annum on training or CPD due to time or financial constraints.
Kids Embrace Mobile On-demand Viewing
Kids have embraced mobile on-demand viewing, with tablets most popular according to a survey of 2,700 parents in the US, Canada and the UK by DHX Media and Ipsos.
Netflix Content Spend "Unsustainable"
Netflix's current business model "burns massive and increasing amounts of cash", is unsustainable and its spending on content can't carry on according to a report from independent analyst and consultancy firm Ovum. Netflix has "adopted a host of very aggressive content accounting assumptions that seek to paper over the deteriorating business economics and flatter its weakening profitability, both of which are the result of its spending beyond its means" according to the report.
Portugal's Sport TV Losses More Than Double
Portuguese sports network Sport TV closed the first nine months of 2016 with a net loss of €15.5 million. The pay-TV network, equally owned by NOS, Vodafone and Controlinveste, has seen losses rise for almost five consecutive years. No reasons were given for the increase in losses although, in August, Sport TV launched a free-to-air sports news channel, Sport TV+, requiring an investment of €1.5 million.
The Week in Publishing
ITN Provides UK News Feed to AP
ITN has announced that The Associated Press (AP) will license ITN's UK news coverage for inclusion in AP's news services, which are sold to media organisations throughout the world. The five-year deal will start from January 1st 2017 for use in AP's global news agency services providing clients with additional depth and breadth of news coverage of UK events.
Digital Content Changes Australian Mobile Habits
Australians' increasing appetite for digital content is driving changes in mobile device use, services, infrastructure and content delivery, according to the Australian Communications and Media Authority's Communications report 2015–16. Australians downloaded 2.2 million terabytes of data in the quarter to June 2016 alone—a 114 per cent increase on two years ago.
BBC Launches Daily Vertical Video News
The BBC has launched a new vertical video experience in its News app. Users can swipe through a curated list of 'videos of the day', to get an up-to-date summary of the day's news. All content is created specifically with smartphone users in mind: the videos are succinct and sharply edited, designed to be viewed vertically in full screen, and have subtitles. In addition the app will debut new vertical interstitial ad formats.
YouTube Goes 4K
YouTube has added support for 4K streaming. In a company blog post, Kurt Wilms, Senior Product Manager, wrote: "Back in 2010, we enabled 4K video support for the very first time. Since then, millions of videos have been uploaded at that eye-popping resolution, making YouTube's the largest library of 4K videos online. Today, we're proud to say that we're taking 4K video one step further with the launch of 4K live streaming for both 360-degree videos and standard videos."
New App Lets You Live Stream Anonymously
A new app called Dusk lets you live stream anonymously to its online community, while protecting your identity through pixelated video and voice changed audio. The end result is something like an anonymous version of Periscope video, or a live video version of the secret-sharing app Whisper according to TechCrunch. The app doesn't require users to to provide any personal information.
The Week in Ad Tech:
SintecMedia Acquires Operative Media
Operative Media will be acquired by SintecMedia, a portfolio company of Francisco Partners. The combined company brings together TV and digital ad management for media companies and publishers worldwide.
User-generated Content Trusted Seven Times More than Traditional Ads
Consumers are seven times more likely to trust user-generated content from social media than traditional advertising, according to a report from Olapic. Only six per cent of UK social media users trusted traditional advertising, while over three quarters preferred to look at user-generated content. The study also found that trust has a significant impact on click-through rates and sales, with 56 per cent of respondents more likely to click on an ad that features user-generated imagery, and the same amount more inclined to buy products featured in such advertising.
GoPro Shuts Media Division and Cuts Workforce by 15 Per Cent
GoPro is shutting its media division as part of a cost-cutting effort, admitting defeat on one of its central pitches to investors when it went public two years ago. The action camera maker said on Wednesday that it would eliminate more than 200 full-time positions, as well as cancel open positions, in a 15 per cent reduction in its workforce. After losing more than 70 per cent of their value since the company's initial public offering, GoPro's shares were up about 3 per cent on Wednesday after it announced the restructuring.
Brands Should Invest More in Cinema Ads, Says Report
Travel/transport and food FMCG brands are likely to be underinvesting the most in cinema ads according to research by Millward Brown and Benchmarketing. Travel brands currently spend an average of 4.9% of their budgets on cinema, but according to the research, the optimal share would be more than twice as high, at 11%. At this level, brands would see an ROI of £2.70 per £1, compared to just £1.10 at the current rate.
Programmatic Advertising to See 31 Per Cent Growth in 2017
Programmatic advertising is expected to grow faster than all other digital mediums in 2017, becoming the principal method of trading digital display, according to media agency Zenith. The group's Programmatic Marketing Forecasts report suggested that programmatic will grow 31 per cent next year, outpacing social and online video. It also predicted that a growing proportion of these other channels will be traded programmatically by the year's end.
Teads Sees Programmatic Revenue Increase
Teads has noted significant growth for its programmatic marketplace, with revenue from programmatic increasing 200 percent between Q1 and Q3 of this year. The company claims to have helped change the perception of the programmatic market from mostly remnant inventory to premium and scaled outstream video on programmatic.
Partnerships of the Week:
Canal+ Partners with FreeWheel
Canal+ has announced a strategic partnership with FreeWheel, to optimise and manage its advertising inventory across all screens. The partnership will enable Canal+'s sales house, Canal+ Régie, to integrate FreeWheel's solutions to unify and manage its inventory to more effectively service its advertiser clients.
Cisneros, Facebook LatAm Partnership
Cisneros Interactive, a digital advertising division of Cisneros, has signed on to become the reseller partner for Facebook in four key Latin American markets: Bolivia, Ecuador, Paraguay, and Venezuela. Cisneros Interactive will hire local teams exclusively dedicated to servicing Facebook's clients in these countries.
Brand Networks Partners with TVTY for New Broadcast Media Syncing Capabilities for Cross-Social Ads
Brand Networks has integrated with TVTY to give marketers the ability to sync their social campaigns to global television broadcasts and advertising. With these capabilities, brands can launch digital campaigns across Facebook, Instagram, Pinterest, Twitter, or LinkedIn when triggered by specific moments on TV.
Hires of the Week: 
Newsworks Confirms Vanessa Clifford as CEO
Newsworks has confirmed Vanessa Clifford as chief executive. Clifford has been with the company since 2012.
Lauren Nemeth Named Turn CRO
Lauren Nemeth has joined Turn as chief revenue officer. She arrives from a stint at Pinterest-owned mobile search engine URX, and will oversee sales, client services and consulting.
Havas Creates Group Chairman Roles to Align Creative and Media
Havas is bringing together its creative and media divisions with a group chairman role for each of its four major regions. Chris Hirst, the European and UK group chief executive, will take on the additional role of chairman for Havas Group UK. Yannick Bolloré, chairman and chief executive of Havas, will take on the role in France, Alfonso Rodés Vilà, deputy chief executive of Havas and global chief executive of Havas Media Group, will take on the additional role in Spain; and Andrew Benett, chief executive of Havas Worldwide and chief strategy officer of Havas Creative Group, will take on the role for North America.
This Week on VAN: 
Do We Really Need Hyper-Targeting on TV? Read more on VAN
Proposed Protectionist Legisation Could Force YouTube Out of Russia, read more on VAN
Broadcasters and Operators will Push More Deeply into Addressable TV in 2017, read more on VAN
Ad of the Week: The Problem with Brogrammers, Girls Who Code, Electus Digital
Women only account for 24 percent of the computing workforce, and that number will probably take a hit in the near future, according to Girls Who Code. A video to speak to a younger generation of women who could be changing the world with their career choice.